Fusion-grill : The features making our barbecues so unique
A modular multi-fireplace BBQ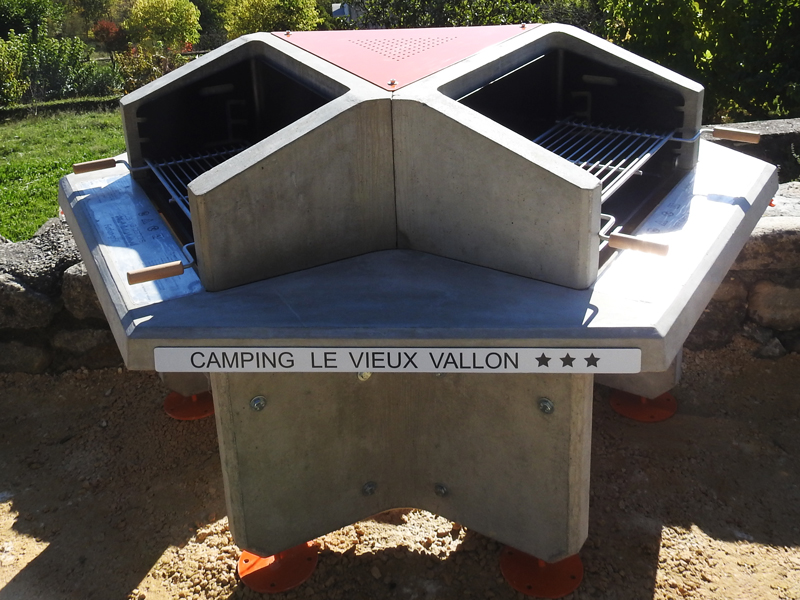 Fusion-grill Duo :
Its 2 slightly oppositioned fireplaces allow for a place against a wall or a low wall. It grants a significant gain of space without any constraint for the user.
Composition of the standard kit :
2 steel fireplaces, 2 stainless steel grilles, 2 engraved stainless steel plates
2 drawers, 4 slides, 2 accessory doors, 6 tubes, 4 glides
3 lifting rings provided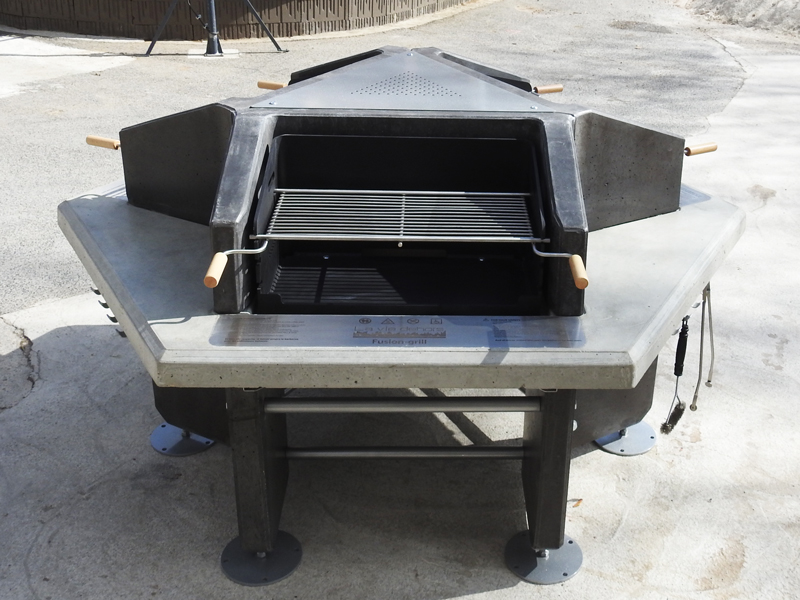 Fusion Grill Island
With its 3 fireplaces positioned at 120 °, 3 people can use it at the same time, without interference but in a friendly setting, by allowing for each one his own work surface. It is easily installed on your spaces and ensures a certain enhancement of the chosen site.
Composition of the standard kit:
3 steel fireplaces, 3 stainless steel grilles, 3 engraved stainless steel plates
3 drawers, 6 slides, 3 accessory doors, 9 tubes, 6 glides
3 lifting rings provided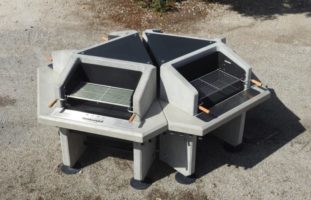 Fusion Grill Large island
With its 4 fireplaces, it allows the fire zones to be concentrated on a single spot.
Its particular feature consists in splitting into two and so obtain 2 barbecues Duo to be dispersed.
Composition of the standard kit :
4 steel fireplaces, 4 stainless steel grilles, 4 engraved stainless steel plates
4 drawers, 8 slides, 4 accessory doors, 12 tubes, 8 glides
6 lifting rings provided
A customizable multi-fireplace BBQ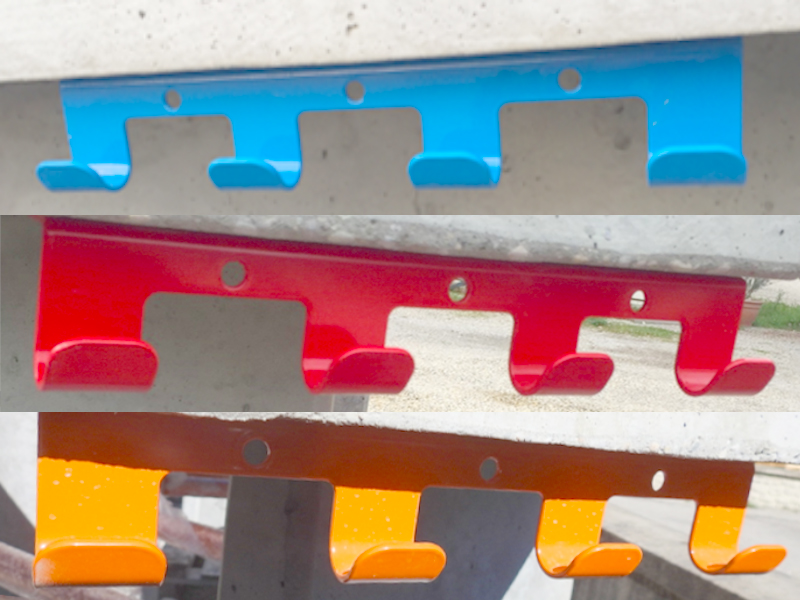 Fusion-grill in solid grey and steel red or two-tone black /grey and glittered steel grey aluminum
Determine the base of your barbecue among concrete shades in grey, black and white, that you can combine or mix. Add your touch and choose your customisation for the steel part colours.
Include your logo and the name of your structure
Translate the safety instructions into the language of your choice
Put a banner on the sides of your barbecue.
Tell us about your special requests, we will explore the possibilities.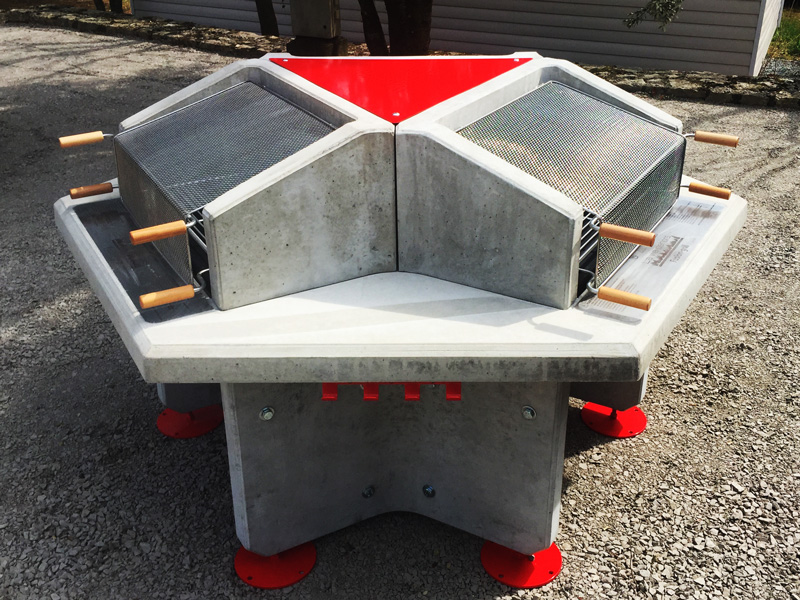 Ergonomic multi-fireplaces barbecue
The attractiveness of outdoor spaces and their facilities evolve according to certain aesthetic trends and use constraints. Fusion-Grill is the meeting point between these trends, it is added to the catalog of existing street furniture.
Upper shelf (optional)
Individual locations and large work surface
Accessory hook holder
Accessible to all and dedicated to an outdoor lifestile, we have developed its ergonomics so that the user has a quality outdoor kitchen, functional and pleasant to work with.
Focus on a large and functional cooking space
Incorrect cubeportfolio ID in shortcode or problem with query. 1001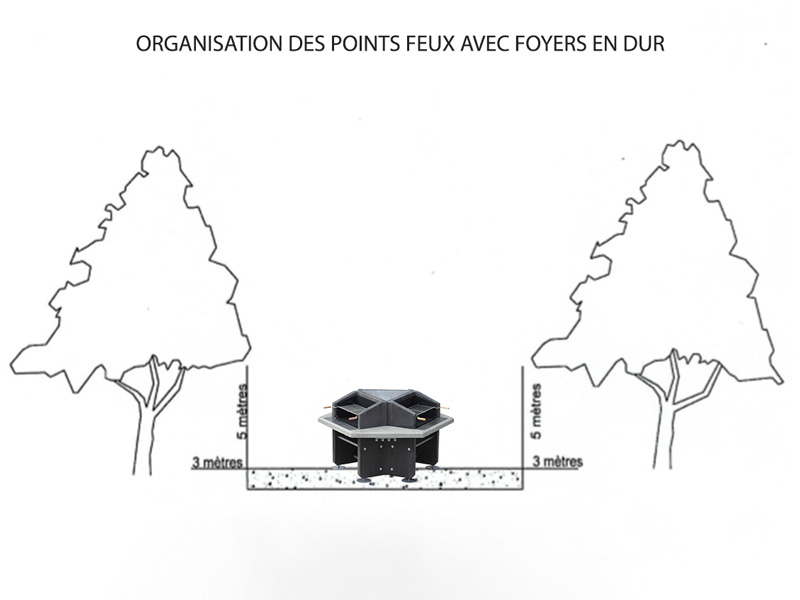 Installation site
Fire prevention begins with a suitable site dedicated to cooking charcoal food. The use of collective barbecue charcoal on a specific area is an alternative to individual barbecues, according to some recommendations defined by prefectural orders. It is important to know them and we advise you to become acquainted with them at your respective prefectures.
The area must be: cleared, without tree branches above the fireplaces and near a suitable fire-extinguishing media such as a water line or a fire extinguisher
High security: Design inspired by fire prevention requirements of departments at risk
Fusion-grill is a non-reversible construction made of non-combustible materials.
Receiving and imprisoning embers in the ash drawer, by direct collection through the fireplace evacuation window.
Extreme resistance, reduced projection of ember, fully covered fireplace
Drawer position farthest under the fireplace
This product complies with DIN (NF) EN 1860-1 + A1.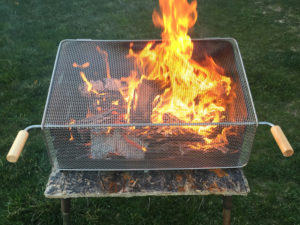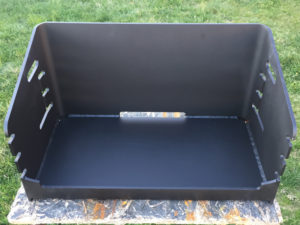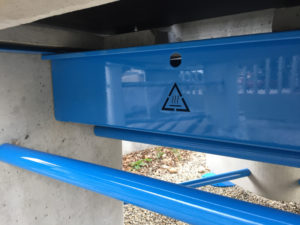 Fusion-Grill Safety Elements
The concrete parts of the Fusion-Grill have the specificity of absorbing the transmitted heat to reduce or even cancel the output, thus ensuring cold external parts to avoid the risk of accidental burning.
Plate of safety instructions
The safety instruction plate is integrated in front of every fireplace in your Fusion-Grill.
This gives you a safe space between the end of the barbecue and the fireplace.
Better than a simple plate, the laser engraving of the safety instructions makes it an unalterable stainless element.
Adjusted delivery
We adapt our method of delivery to the recipient's location, his request and the number of barbecues ordered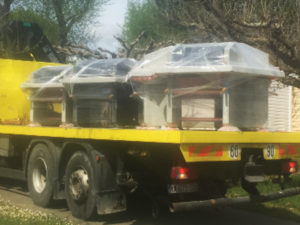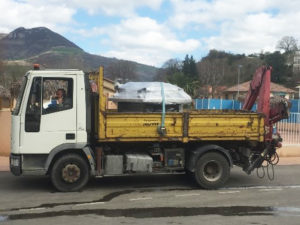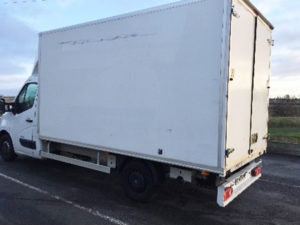 Adapted lifting device
Depending on the defined delivery method and the accessibility of the installation site, various lifting devices may be used.
Three lifting rings allow the barbecue to be slung for unloading, moving and installing.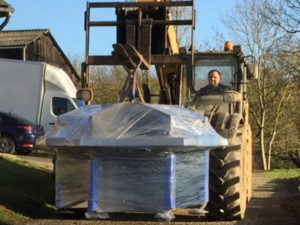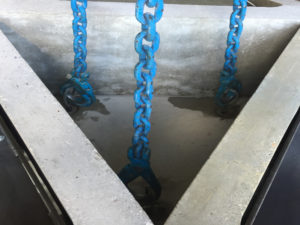 Easy installation
The upgrade is quick and the installation does not require a concrete slab.
Your Fusion-Grill can be set on a relatively flat (4%) and preferably stabilized ground.
Your area remains intact, and the barbecue is immediately ready for use.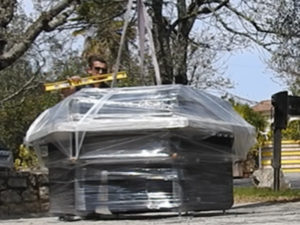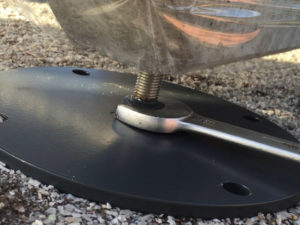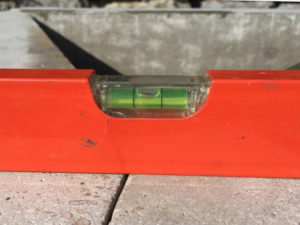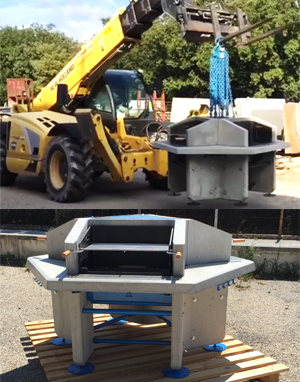 A movable barbecue
For protection, or just for place changing, your barbecue can be moved.
Nothing is fixed, it allows for a re-installation within minutes after a quick upgrade.
Access on difficult ground with a suitable lifting device, everything is possible
If you opt for delivery only, your barbecue will be delivered on a special pallet.
So you can unload it with a lifting device having long fork or from above.
Slinging points are provided for this purpose.
A barbecue accessible to people with reduced mobility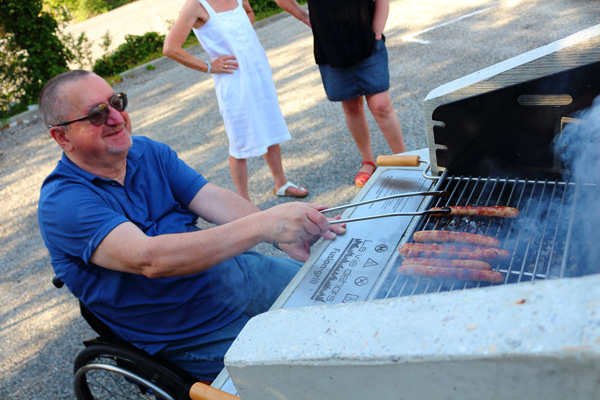 Accessibility for people with reduced mobility provides access to a physical place or to information.
The autonomy and the participation of people with reduced mobility consent to reduce or even eliminate the physical and organisational differences in their environment. La vie dehors, as part of this accessibility approach, also aims to improve the quality of life of people with reduced mobility.
Outdoor cooking appliance pioneer in this approach of equity, the FUSION-GRILL offers this particularity to which you associate yourself.
PRM access to the Fusion-Grill
Barbeque for all does not forget anyone, so for La Vie Dehors, it is unthinkable not to think of them. Thus, you promote access for all.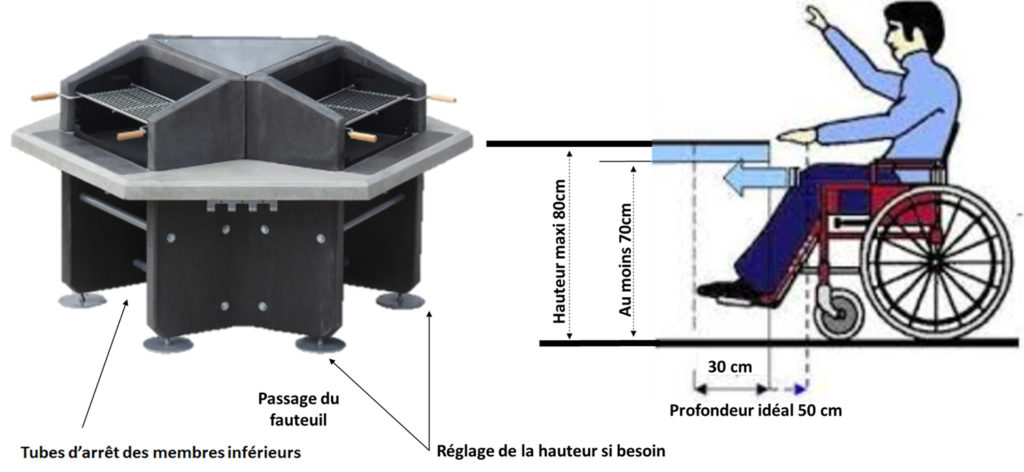 An eco-responsible barbecue from the beginning
At the foundation of everything, the marriage between the natural and the innovation are the key principles of the company La Vie Dehors.
The specifications of Fusion-grill must allow for a lossless manufacturing, installation without landscaping projects and a healthy life cycle for the man in harmony with the environment.
The results of our study for its design demonstrated that the natural approach provided the answers and the desired efficiency. Thank you mother nature!
Our 6 eco-fundamental pillars:
Eco-responsible = Preservation of raw materials and the environment
Economic = No additional landscaping costs required and no operating costs
Ecological = Activation with natural energy and non-polluting residue
Eco-citizenship = User-friendly for all, enhancement of people with reduced mobility, and promoting the link and resident initiative.
Eco-consumption = Concept fully recyclable and made to last without heavy maintenance
Eco-design = Preserves the natural aspect of the location
Implementation of our eco-responsible approach on the life cycle of FUSION-GRILL.
Specific choices for an optimal duration
Services: Enhancement of customers, a conviction and force majeure
Manufacture in prestressed concrete of the 3 main subassemblies: (fire protection, table and base).
Several types of steels used for their properties according to a desired need, defined by sizes and thicknesses for a required result.
To ensure the longevity of FUSION-GRILL, we suggest the maintenance of your barbecue.
Wintering
The season is over, you want to ban all use, no problem!
Steel fireplaces and ash drawers can be removed and stored until the next season.
Interchangeable parts
The Fusion-Grill is fully hand-made. Each component is made to measure, which makes it unique on the one hand, but also allows us to replace each part if necessary.
We are in permanent relationship with the different manufacturing service providers and that according to our plans. This feature is important because we not only know the manufacturing processes but we master them. The design of each piece meets a specific need and we are able to explain it to you if you are curious enough to understand.
Performed by ourselves or your teams, our actions can also be combined!
Periodic maintenance consists of evacuating the ashes from the fireplace into the ash pan.
The large storage capacity of the ash drawer makes it possible to check its capacity before considering evacuation.
A quick and efficient water cleaning, with a medium high pressure is achievable on the entire barbecue.

One of the great features of the Fusion-Grill is its high-capacity ash drawer allowing for less frequent maintenance.
It will obviously depend on the frequency of use but its evacuation can easily be done every 1 to 2 weeks during intensive use.
In addition to the periodic cleaning carried out by your teams, we suggest our maintenance services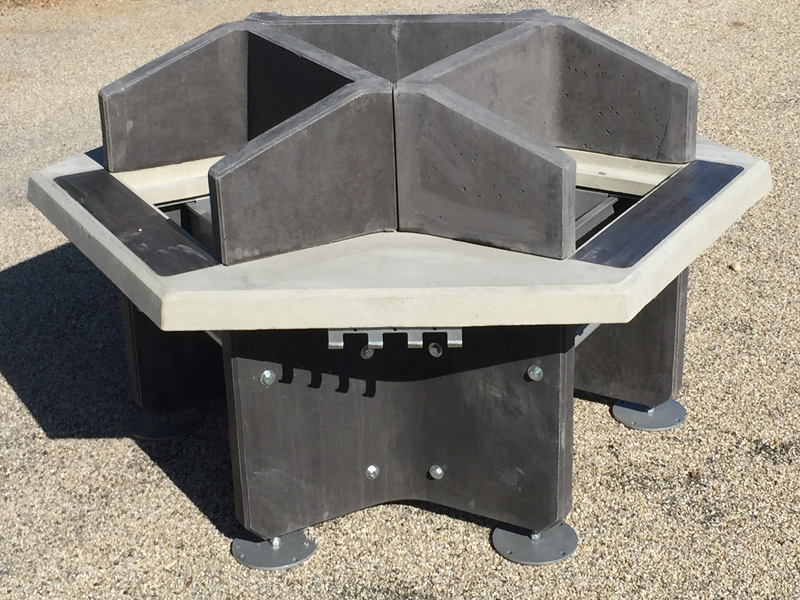 Wintering
The season is over, you want to ban all use, no problem! Steel fireplaces and ash drawers can be removed and stored until next season.
Replaceable parts
The Fusion-Grill is fully hand-made. Each component part is made to measure, which makes it unique on the one hand, but also allows us to replace each part if necessary.
We are in permanent relationship with the various service providers manufacturing – according to our plans – whatever we ask. This particularity is important to know because we know the manufacturing process and know how to control them: If there is any problem, it will not remain for long. The design of each piece meets a specific need and we are able to explain it to you if you are curious to understand.